How to enjoy greater career achievement, more loving relationships, and an all-around incredible life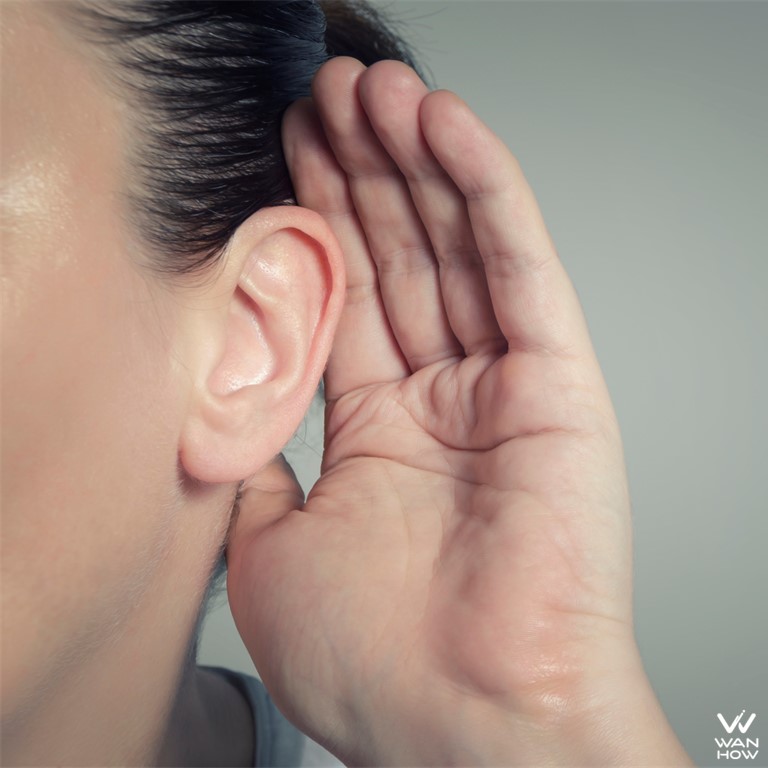 All by "having an ear" for the opportunities already around you…
People often think being a good listener is about 3 things:
Remaining silent while others are talking
Using facial expressions or verbal cues like "mmm-hmm"
Being able to repeat what the other person said, word-for-word
Yet surprisingly, those things actually have almost nothing to do with good listening!
In fact, some of the best listeners actually go against that common advice…
And they enjoy the rewards because of it.
Listening — and I mean really listening — to people like your partner, coworker, boss, or child…
Is perhaps the biggest opportunity in life.
It (1) opens more doors, (2) transforms relationships, and (3) helps you get more of what you want out of life.
Yet, no one ever really teaches you how to listen effectively! There's no class for "Listening 101"…
Until now.
But We Already Know What Good Listening Is… Don't We?
Listening seems pretty straightforward…
After all, everyone's got two ears to help them do it…
But as we've discussed, it's about much more than remaining silent while others are talking… or repeating what a person says word-for-word…
The common advice about listening makes sense logically…
But it fails to take into account how people can truly communicate on a deep level.
In fact, when you start using true listening skills…
It can be a powerful way to increase your own influence and likeability.
Use these tactics, and you'll not only help the person you're listening to…
You'll help yourself.
It's time to forget about everything you've heard about listening, and get ready to take things to the next level…
The Surprising Secrets of World-Class Listeners
So what are the best listeners doing differently? Here are 2 examples, to show you how different they are from common listening advice:
They Pay Attention to Body Language
Studies have shown that the majority of a person's communication — between 70% and 93% — is actually expressed through their body language!
This includes things like facial expressions, gestures, tone of voice, and speaking volume.
And as you'll discover inside this course…
This isn't just about noticing the other person's body language…
But it's also about sending a specific signal from your own body language that says, "I'm all in on this conversation."
They Aren't Afraid to "Jump In" And Ask Questions
This is not about interrupting someone… or talking over them…
It's about showing the person that you really care about understanding their feelings or their point of view.
Great listeners don't remain completely silent, but there's a right way and a wrong way to jump in.
If you think about a time in your life when you felt seen and heard…
Odds are that person was practicing advanced listening skills with you — whether they knew it or not!
And it's these types of people that usually end up successful…
In fact, the ability to use listening skills is often the #1 trait of those chosen for leadership roles — both at work and at home.
There's no easier way to unlock greater success in life…
And now, you can discover all of these hidden strategies in one place:
Introducing
Listen, Please: The Power of Listening Skills for Personal and Professional Success
Inside this new course, you'll get the entire step-by-step process to get good at listening – FAST.
You'll find out exactly what good listening is (and is not)… how to understand someone's full communication… how to reach an important agreement… tools for highly-emotional conversations… specific skills for business and negotiation… and more…
With Listen, Please, you'll also discover:
How to change someone's mind (The to-do's… and not to-do's)
3 leadership listening questions you can ask your team to get the most out of them and make them feel heard
How to make helpful suggestions to the person you're listening to, while also building their self-esteem
The 4 core goals of listening in nearly any situation
What NOT to do with your body language when you want to show someone that you're really listening to them
Exactly how often to make eye-contact with the person you're listening to
Why being able to pick up on NONVERBAL cues (body language, facial expressions, gestures, tone of voice, etc) from your conversation partner could be more important than listening to their words
How to instantly detect how a speaker is feeling so that you can empathize with them (even if you disagree with them)
Ways to handle conversations with people who are displaying difficult, highly-emotional, or irrational behavior (you'll find out how to help them calm down and what to do next)
And much, much more!
Once you get access inside Listen, Please: The Power of Listening Skills for Personal and Professional Success… you'll have everything you need for even better relationships, more achievement at work, and greater opportunities.
What You'll Get
Listen, Please: The Power of Listening Skills for Personal and Professional Success includes insights from leading experts in the field like bestselling authors, psychiatrists, behavioral scientists, and coaching consultants… PLUS you'll also get hands-on activities that you can practice in the real world.
We'll cover:
Module 1: What Good Listening Is—And Is Not
Find out what highly-skilled listeners do and don't do (It's NOT what you'd expect…)
Module 2: Listening 101—The Basics
Discover how to become a good listener by using 3 core strategies.
Module 3: Understanding Someone's Full Communication—Taking Your Listening to the Next Level
See how to observe body language, facial expressions, tone of voice, and other nonverbal communication to decode what a person is really telling you.
Module 4: Listening as the Foundation for Reaching Agreement
Find out how to reach an important agreement (and how to help change someone's mind if they aren't seeing things your way).
Module 5: Un-Hijacking the Brain: Listening When Emotions are High
Let's face it: Things can get emotional. Discover how to help someone calm down and provide them comfort and solutions that they will welcome.
Module 6: Listening for Leaders—Employing Effective Listening Skills in Business
Discover the tools you need to successfully communicate and lead at work… so that you and your team can rise together.
This course will reveal everything you need to know in a short amount of time. There's no better way to upgrade your skills quickly and easily.
And at the conclusion, you'll also get an action plan that will show you how to move forward to keep your momentum going:
Can You Afford To Wait Any Longer?
Good listening is perhaps the most important skill you can have to take advantage of all the hidden opportunities around you.
In fact, every day, people come into contact with chances to change their whole life…
But these opportunities are invisible to them because they haven't yet discovered how to "tune into" these moments with the power of next-level listening.
Imagine what your life would look like if you had unlimited chances to make it better…
Imagine if your personal and professional relationships were easy and effortless…
You could connect… grow… reach… and succeed… like never before.
Well, the Listen, Please course is your ticket to this new world.
To get lifetime access to a step-by-step map of evidence-based strategies, insights from the world's leading communication experts, and a specific action plan to succeed…
The investment to join is just $247.
Over the course of a year, this comes out to just $0.68 per day!
For a limited time, you can pay what you can to pre-register.
That gives you access to every lesson, all the exercises, and audio downloads.
Just ask yourself: How much is personal and professional success worth to you?
Can you afford NOT to develop these skills?
Now is your chance to develop them… skills that will give you an advantage for life.
This Course Will Change Your Life – Guaranteed
This course contains a research-based system that can help you finally unlock the levels of personal and professional success that you deserve…
But don't take my word for it!
Take a month to review the entire course and test out the material…
If you're not fully satisfied, just let me know… I'll refund every penny of your investment, no questions asked.
It's not too late to get exactly what you want out of the relationships in your life.
Join Listen, Please and give yourself the gift of real human connection — at home and at work.