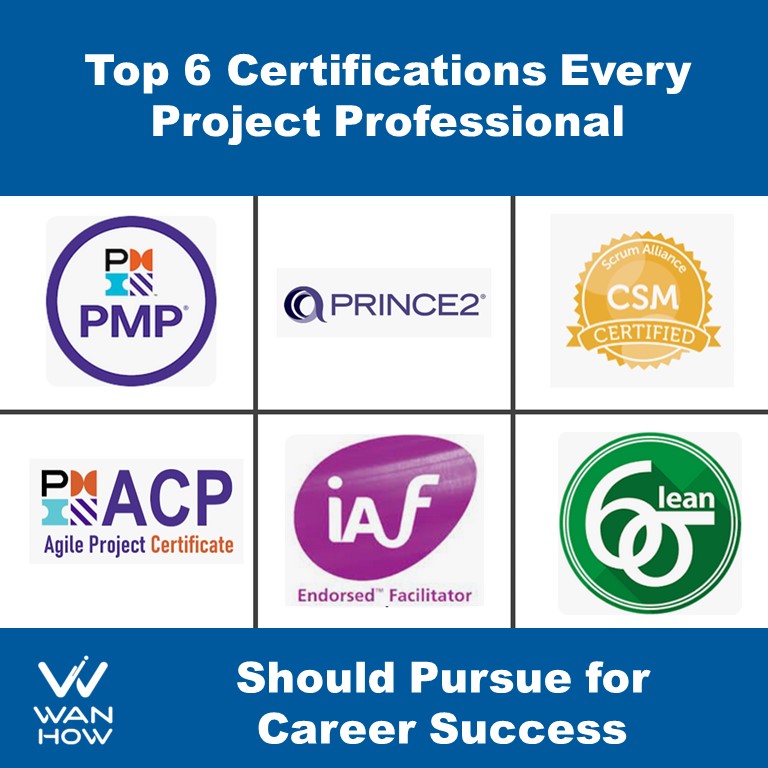 Are you a Project Management Professional looking to take your career to the next level? In today's competitive job market, having the right certifications can make all the difference. That's why we've compiled a list of the top 6 certifications every project management professional should pursue for career success. Whether you're just starting out or looking to enhance your skills, these certifications will not only boost your resume but also increase your earning potential and open up new opportunities.
From the widely recognized Project Management Professional (PMP) certification to specialized credentials like Agile Certified Practitioner (PMI-ACP) and Certified ScrumMaster (CSM), each certification offers unique benefits and advantages. We'll explore the requirements, benefits, and key features of each certification to help you make an informed decision.
By obtaining these certifications, you'll validate your expertise, gain access to a vast network of professionals, and demonstrate your commitment to continuous professional development. So, don't miss out on the chance to enhance your project management skills and propel your career forward. Let's dive in and discover which certifications are right for you!
Benefits of project management certifications
Project management certifications offer a wide range of benefits that can significantly impact your career trajectory. Firstly, certifications validate your expertise and demonstrate your commitment to the project management profession. Employers often prioritize candidates with certifications, as they provide assurance of competence and knowledge in the field. Additionally, certifications can increase your earning potential. According to the Project Management Institute (PMI), individuals with a PMP certification earn an average of 25% more than those without. Certifications also provide access to a vast network of professionals, allowing you to connect with like-minded individuals, share ideas, and learn from industry experts.
Project Management Professional (PMP) certification
The Project Management Professional (PMP) certification is widely recognized as the gold standard in the project management industry. Offered by the PMI, this certification is tailored for experienced project managers who want to showcase their skills and knowledge. To qualify for the PMP certification, you need a minimum of three years of project management experience, along with a minimum of 35 hours of project management education. The PMP exam covers a wide range of topics, including project initiation, planning, execution, monitoring, controlling, and closing. Achieving the PMP certification not only adds credibility to your profile but also opens up a world of opportunities. Whether you're looking to work in a specific industry or advance to a higher-level position, the PMP certification can help you achieve your goals.
Agile Certified Practitioner (PMI-ACP) certification
In today's rapidly changing business environment, agility is key. That's where the Agile Certified Practitioner (PMI-ACP) certification comes into play. Offered by the PMI, the PMI-ACP certification is designed for project managers who are well-versed in agile methodologies. Agile project management is a flexible and iterative approach that allows teams to deliver high-quality products and services in a fast-paced environment. The PMI-ACP certification validates your knowledge of agile principles, practices, tools, and techniques. It demonstrates your ability to lead agile projects and adapt to changing requirements. With the growing popularity of agile methodologies, obtaining the PMI-ACP certification can significantly enhance your career prospects and make you a valuable asset to any organization.
Certified ScrumMaster (CSM) certification
If you're interested in agile project management, the Certified ScrumMaster (CSM) certification is worth considering. Scrum is an agile framework that helps teams deliver value by focusing on collaboration, feedback, and continuous improvement. As a Certified ScrumMaster, you will be responsible for facilitating the Scrum process and ensuring the team follows the Scrum principles. The CSM certification, offered by the Scrum Alliance, equips you with the knowledge and skills to effectively lead Scrum teams. It covers the fundamentals of Scrum, including roles and responsibilities, ceremonies, artifacts, and agile project management principles. By obtaining the CSM certification, you'll be well-positioned to drive successful Scrum implementations and contribute to the success of agile projects.
PRINCE2 certification
If you're based in the United Kingdom or looking to work in the UK, the PRINCE2 certification is highly valued by employers. PRINCE2, which stands for PRojects IN Controlled Environments, is a process-based project management methodology widely used in the UK and internationally. The PRINCE2 certification is divided into two levels: Foundation and Practitioner. The Foundation level provides a comprehensive understanding of PRINCE2 principles, themes, and processes, while the Practitioner level focuses on applying PRINCE2 principles to real-life scenarios. The PRINCE2 certification demonstrates your ability to manage projects according to a structured and controlled approach, making you an attractive candidate for project management roles in the UK and beyond.
Six Sigma certification
Six Sigma is a data-driven methodology used to improve business processes and reduce defects. Six Sigma certification is highly sought after by organizations looking to streamline operations and enhance efficiency. The certification is offered at different levels, including Yellow Belt, Green Belt, Black Belt, and Master Black Belt. Each level signifies a different level of expertise and involvement in Six Sigma projects. Six Sigma certification equips you with the tools and techniques to identify and eliminate defects, reduce process variation, and drive continuous improvement. By obtaining Six Sigma certification, you'll become a valuable asset to organizations seeking to optimize their processes and achieve operational excellence.
IAF Endorsed Facilitator certification
The International Association of Facilitators (IAF) launched the Endorsed Facilitator certification to recognize those who practice professional facilitation within their organizations. This is an important skillset for senior project managers because after mastering project management skills, the next challenge is to align stakeholders to help them make collaborative decisions faster. This will reduce the risk of project delays due to slow or poor decision making. By obtaining this certification, you elevate your role within the organization by working collaboratively with leaders across silos.
Choosing the right certifications for your career goals
With a plethora of certifications available, choosing the right ones for your career goals can be a daunting task. To make an informed decision, it's essential to consider the requirements, benefits, and relevance of each certification. Start by assessing your current skills and experience and identifying areas where you want to grow. Research the job market to determine which certifications are in high demand and align with your career aspirations. Consider the time and financial commitment required for each certification, as well as the ongoing professional development opportunities offered. By carefully evaluating these factors, you can choose certifications that will have the greatest impact on your career trajectory.
Tips for preparing for and passing project management certification exams
Preparing for project management certification exams requires dedication, time, and thorough understanding of the exam content. Here are some tips to help you prepare for and pass your project management certification exams:
1. Familiarize yourself with the exam content: Understand the exam syllabus, domains, and weighting of each topic. This will help you prioritize your study and allocate time accordingly.
2. Create a study plan: Develop a study schedule that suits your learning style and commitments. Break down the exam content into manageable chunks and set realistic goals for each study session.
3. Utilize study resources: Make use of study guides, textbooks, online courses, practice exams, and other resources to enhance your understanding of the exam content. Seek out reputable sources and materials that align with the certification requirements.
4. Join study groups or forums: Engage with fellow certification aspirants to exchange knowledge, share study materials, and discuss challenging topics. Collaborating with others can provide valuable insights and help you gain a deeper understanding of the exam content.
5. Practice, practice, practice: Take practice exams and simulate exam-like conditions to familiarize yourself with the format and timing. Identify areas where you need improvement and focus your study efforts accordingly.
6. Review and revise: Regularly review and revise the exam content to reinforce your understanding. Use flashcards, mind maps, or other revision techniques to consolidate your knowledge.
7. Stay updated with industry trends: Project management is a dynamic field, and certification exams often reflect the latest industry practices. Stay informed about current trends, methodologies, and best practices to ensure your knowledge is up to date.
8. Take care of yourself: Exam preparation can be stressful, so make sure to prioritize self-care. Get enough rest, eat well, exercise, and manage your stress levels. A healthy mind and body will contribute to your success on exam day.
Conclusion
In conclusion, obtaining the right certifications can significantly boost your career as a Project Management Professional. The Project Management Professional (PMP), Agile Certified Practitioner (PMI-ACP), Certified ScrumMaster (CSM), PRINCE2, and Six Sigma certifications are among the top certifications that can enhance your skills, increase your earning potential, and open up new opportunities. By carefully selecting certifications that align with your career goals and preparing diligently for the exams, you can take your project management career to new heights. Remember to stay updated with industry trends and continuously invest in your professional development to stay ahead in this competitive field. Don't miss out on the chance to validate your expertise, expand your network, and demonstrate your commitment to continuous improvement. Start your certification journey today and unlock the doors to a successful project management career.
Related posts