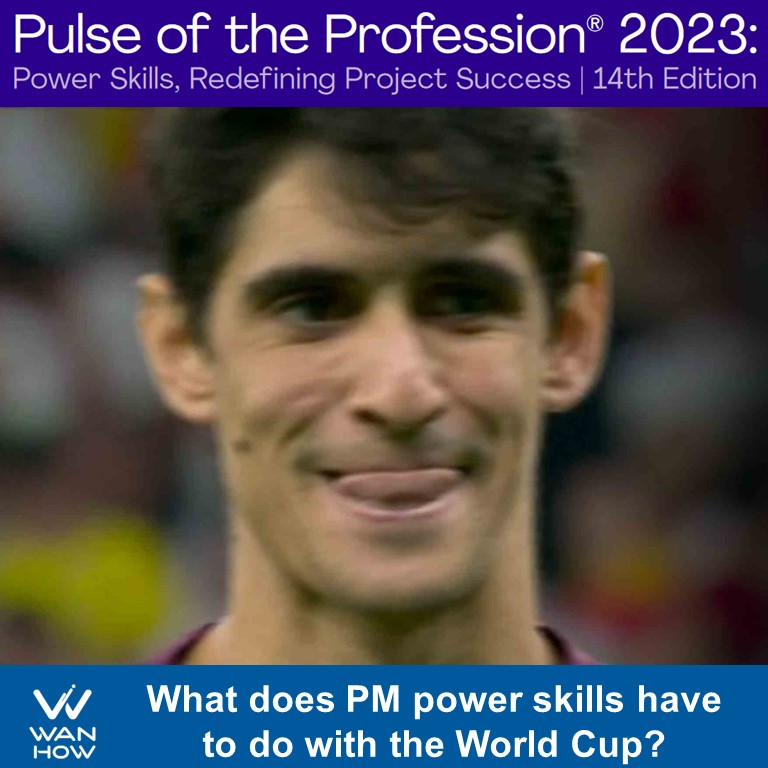 In its Pulse of the Profession 2023, PMI highlights 4 power skills that help project professionals fulfill organizational objectives: communication, problem-solving, collaborative leadership, and strategic thinking. Based on my coaching practice, I would like to highlight one fundamental power skill that will help you keep your job and demonstrate personal leadership: self-awareness.
Here's why. Have you ever been in a meeting where communication breaks down and people stop collaborating? In that situation, you can forget about strategic planning and solving problems. In the worst case, there is open conflict between stakeholders. At the other extreme, there is hidden resentment evidenced by lack of cooperation, blockers, and "agree to disagree" stalemates.
There is usually a trigger event. Someone made a mistake or didn't do what was expected. There is negative feedback. Then there is the personal interpretation of that feedback which leads to negative emotions. That further fuels more negative thoughts which amplifies the negative feelings. The downward spiral continues until there is an outburst or break in relationship.
Here's where the power skill of self-awareness comes in. Most of us can't see ourselves because our eyes look outward. In order to see inward, we need to imagine that we have an eye outside of ourselves, either as a butterfly on the wall, a camera at the ceiling, or as a narrator of the stories of our lives. Once we can observe ourselves, we have the opportunity to notice and break this downward spiral. Instead we can inject a positive thought which leads to positive emotions and generate a positive upward spiral.
This leads to positive outcomes. In my coaching practice, I have encountered clients who are in the midst of these negative downward spirals. The trigger could have been a mistake, fueled by negative thinking and emotions, which is amplified to the worst imagined outcome – losing their jobs. So they decide to explain themselves by drafting a lengthy email to explain why it wasn't their fault. The blame is usually pinned on someone else who didn't provide enough support, information, direction, or who actively blocked them. Or it could be the situation itself where the individual is caught between two powerful stakeholders who are battling it out.
The saving grace is that they reach out to me for third party perspective. They share their draft before sending it. The coach becomes their external eye to gain self and situational awareness. My usual response is to delete that email; don't send it. If a response is warranted, I help them draft a short, simple, direct email. Otherwise, my advice is to do nothing. Usually, after a week, I receive a message saying that nothing bad happened. That others, too, recognized the bad situation and were similarly caught in it.
So what do you do in the moment if you recognize that you are in a downward spiral? Acknowledge it and forgive yourself. If an outburst occurred, apologize to those present. Say something like, "Sorry for … that wasn't my best behaviour." Self-forgiveness is fundamentally more important than receiving the forgiveness of others. It leads to an upward spiral, positive behaviour, and more likely to a positive outcome.
Like Yassine Bounou, or Bono for short, the Moroccan goalie. Morocco reached the knock out stage of the FIFA World Cup for the second time this year. At the 25th minute of their game against Spain, the favourite to win, Bono made a mistake that almost cost Morocco a goal. He kicked the ball to a defender who was tightly marked. A Spanish player got the ball. An attempt at goal was made. Thankfully it hit the goalpost.
What's remarkable was Bono's response. Instead of being upset and angry with himself (spiralling downwards), he forgave himself, evidenced by that goofy smile on his face. Internally, he must have laughed it off. That generated positivity and Bono went on to make save after save all the way to the last minute of a goal-less game. He appeared to be enjoying every moment, living up the experience of playing in the World Cup tournament.
The game remained scoreless at the end of full time and extended time. So it would be decided based on a penalty shootout. The two goalies hugged and spoke at they walked towards the goal. Bono looked relaxed and confident. I remarked to my wife, "The Moroccan goalie is going to block Spain's penalty kicks and help Morocco win."
Confidence exuded from him. Bono dove in the right direction for all three kicks. The first one hit the post. He blocked the second and third. Together with Morocco's successful kicks, Bono helped Morocco reach the World Cup quarterfinals for the very first time.
Their game against Portugal starts in a minute. Portugal had better score in the first 90 or 120 minutes of play. They do not want to face Bono in a shootout. Let's see what happens…
Game over. Morocco beat Portugal 1-0 unexpectedly, very unexpectedly. They become the first African nation to reach the World Cup semi-finals. Bono made some amazing saves in that match including denying a point blank shot from Cristiano Ronaldo in the closing minutes. What was noticeable to me though, was that Bono was caught smiling many times during the match when the camera was panning the field.
Another evidence of Bono's positivity and leadership from behind was when he handed his "Player of the Match" trophy to teammate En-Nesyri who scored Morocco's winning goal. Whatever the outcome of the Morocco-France semi-final I think we are going to see Bono smiling during and after the game.
The power skill of self-awareness leads to positivity which leads to positive self-talk in the moment that generates positive emotions. This upward spiral builds confidence which allows you to perform at your best. You cannot control what the other person shoots at you, but you can definitely block off negativity from affecting you and deliver your best – in soccer as well as when delivering project goals.
Sources:
https://sportstar.thehindu.com/football/fifa-world-cup/news/fifa-world-cup-qatar-2022-morocco-vs-portugal-quarterfinal-yassine-bounou-bono-man-of-the-match-award-given-to-youssef-en-nesyri/article66249181.ece