Some of us are returning to work in the office, some continue to work from home, and others are permanently remote. Welcome to the world of hybrid meetings! During the peak of the pandemic, everyone worked from home and we got used to 100% virtual meetings.
That was easy, ahem, after:
we got used to Zoom, Microsoft Teams, or some other online meeting tool.
people set up their home offices.
everyone got a headset or a good noise-cancelling mic.
everyone had a webcam.
The benefits of 100% virtual meetings were:
everyone was on a level playing field.
we could hear everyone clearly because of individual mics.
we could see everyone clearly because of individual webcams.
Now, we are in the era of Zoom fatigue. At least some of us are. Half of us want to return to in person meetings. The other half of us want to remain on Zoom, or maybe need to use Zoom occasionally for various reasons e.g. work-from-home day, positive COVID test, etc.
So, we need effective hybrid meetings. Now, if your organization invested in good–translated expensive–meeting room technology, that's well and good. My guess, though, is that not every room that's used for meetings has this technology built into it. So those special high tech meeting rooms are heavily booked and it's hard for you to find an available time slot for your small team meetings.
Challenges of Hybrid Meetings
I've had that problem before pre-pandemic. Most of my ad hoc meetings were with small working teams of 3 – 6 people. If at least one person was remote and we wanted to hold a hybrid meeting we encountered these challenges:
high tech meeting room not available
meeting in a small room using one laptop meant not everyone was visible to the remote person(s) and audio was poor
meeting in a small room with several laptops caused audio feedback problems
The (not so great) solution was for all of us to find separate rooms to participate in a fully 100% virtual meeting. In other words, we did not have a simple solution for ad hoc hybrid meetings.
Putting in high cost, high tech virtual meeting room solutions for *all* meeting rooms is also not a cost-effective solution. So what is?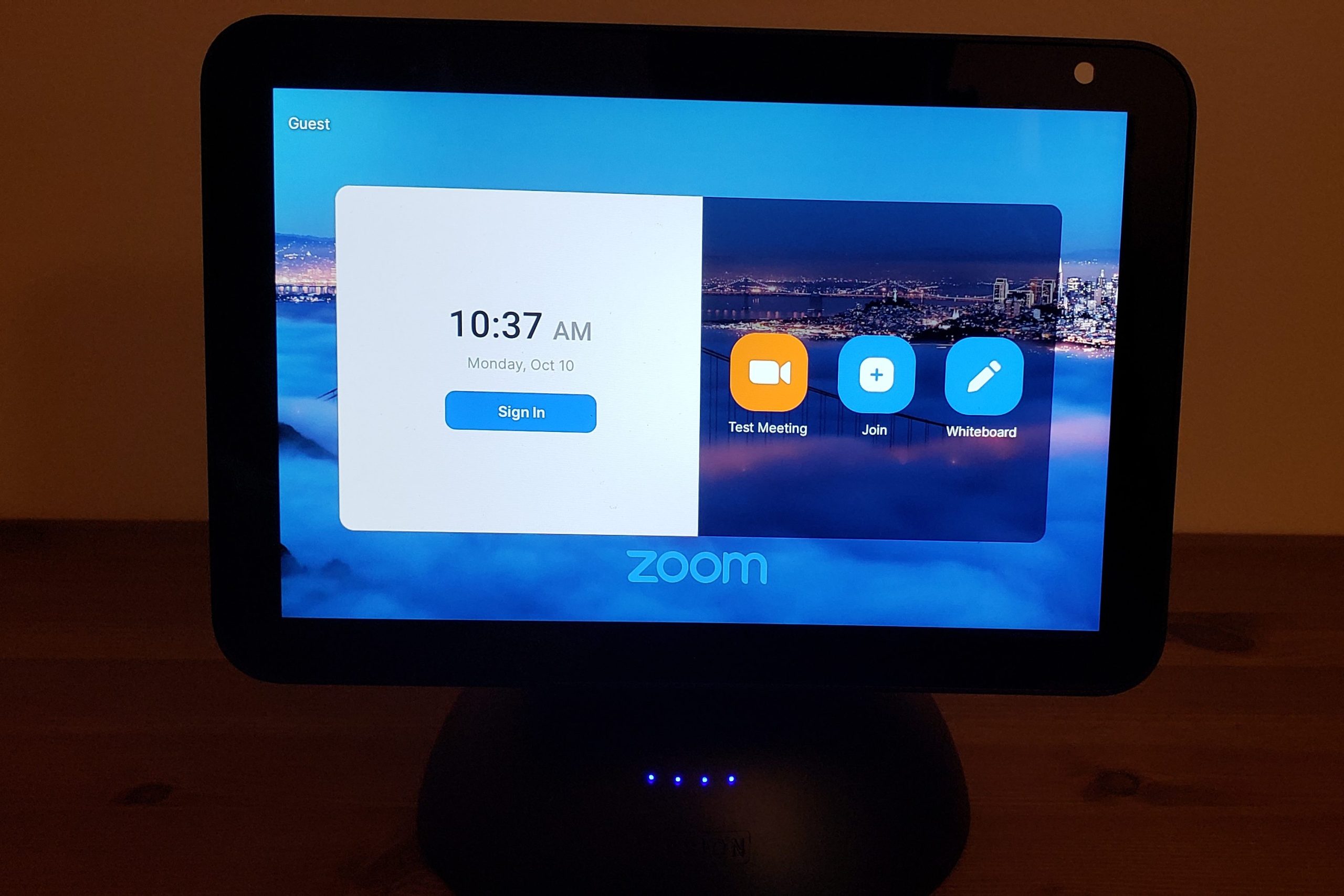 The Solution
Enter the Amazon's Echo Show 8. It's a small device that solves the two biggest hybrid meeting challenges:
Now, the cons, both of which limits the sharing of devices.
Privacy. The Echo Show 8, as with all of Amazon's echo devices, needs to be linked to a person's Amazon account. So you have to make sure that you don't share your photos, disable the drop in features, etc if you're using this for work.
Wifi. Every time you connect to new wifi networks, you will need to enter your personal Amazon password.
This means that the hybrid meeting host must be the person linked to the Echo Show 8. Or you must trust the small team who "borrows" the device.
Pilot Testing a Hybrid Meeting Using the Echo Show 8
Hybrid meeting participants: 6 persons in the same room, seated in a U-shape. 6 persons attending remotely.
Hybrid meeting duration: 90 minutes
Hybrid meeting host: was one of the remote attendees.
How to instruct Echo Show 8 to join a Zoom meeting:
Say, "Alexa join Zoom meeting"
Say the Zoom meeting ID.
Say the Zoom meeting passcode.
If there's an error, the Zoom screen will be displayed and you can enter the meeting ID and passcode using the Echo Show's touch screen.
The verdict
Remote attendees loved that they could hear 6 persons in the room clearly. Their was some audio lag but that could be due to poor wifi connection. It occurred a few times but only lasted a few seconds.
Remote attendees loved that the camera zoomed in on a few persons when they spoke.
In-person attendees said that the Echo Show's screen was too small. But they could hear remote attendees clearly.
The ideal number of users is 2-3 persons in the room for their images to show up in a large size on remote screens. They are also closer to the 8 inch screen so can see larger images of remote participants.
I would say that the recommended maximum users in the room is 6, after which they would be too far away from the small screen.
At US$165, the affordable Echo Show 8 is a no brainer to help small teams hold hybrid meetings.
Other Considerations
In-person attendees can use their own laptops and join the Zoom meeting on video only with no audio. Choose the phone-in option but don't actually phone in. That way, they can screen share as needed and remote participants can get a better view of each individual.
The Echo Show 8 only works with Zoom. If you're using another online meeting software, check out the Meeting Owl 3 below.
Alternative Tools for Hybrid Meetings
The Echo Show 10 has a larger screen and mechanically rotates the screen and camera to face the person speaking. I haven't tested this myself but the reviews are mixed. List price: US$385.
The Meeting Owl 3 by Owl Labs features a 360 degree rotating camera and works with Zoom, Microsoft Teams, BlueJeans, GotoMeeting and Webex. List price US$1049.
Related posts