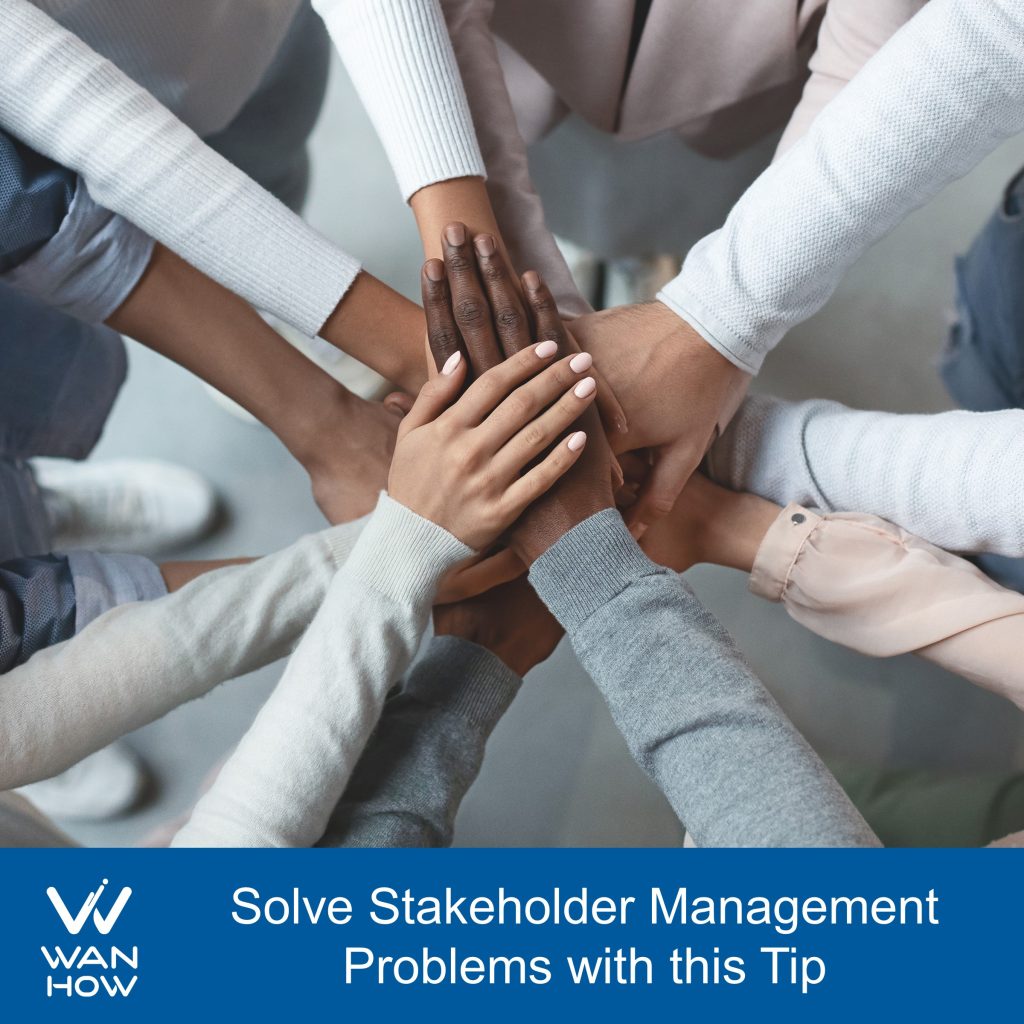 Stakeholder management is the biggest pain point experienced by project managers. In my survey of project professionals, 80% of respondents mentioned it as a challenge or problem that poses risks to the success of their projects. This resonated with the broader PM community. When I posted the list of common stakeholder management problems to the PMI Project, Program and Portfolio Management Group, it received 12,000+ views and 50+ reactions. In comparison, a post about the #2, #3, and #4 biggest challenges had 7,000+ views.
So I set about looking for ways to solve stakeholder management issues and potentially to nip them in the bud before they grow too big. Here's a simple tip you can try.
Step 1 – List all your stakeholders
Start with your project sponsor
Add yourself, the project manager, to the list
If your boss is not the sponsor, add your supervisor to the list.
Then start looking laterally, consider all the peers of the sponsor. Are they impacted by the project or do you need their input?
Scan horizontally and consider the peers of your boss too.
Now, start adding department heads or leaders of all the subject matter experts (SMEs) you need on your project.
Don't forget to list your users and/or clients.
You may also need to include stakeholders from the standpoint of communications, risk management, and regulatory compliance.
This is only the starting point. When you share your list of stakeholders to the initial group, ask them if you are missing other stakeholders? Your questions could look like:
Is anyone missing?
Who else should be involved in this project? These are people to be consulted.
Who else needs to know about this project? These are stakeholders to be informed.
Step 2 – Write use cases from the perspective of each stakeholder
Next, use the format of agile user stories:
As a [specific stakeholder], I want [some solution] so that I can [overcome some challenge or solve some problem] with this [success or test criteria].
Spend most of your time here. You will reap the rewards if you do a comprehensive job here. When you look at a group photo of you in it, what does your eye seek first? Yes, you look for your face in the midst of all the other faces. It's the same thing when you come across any project communication, be it a project charter, report, or status update. You look for your specific problem or concern to be addressed.
Step 3 – Harvest your use cases
Once you have compiled a rich list of use cases:
Look for patterns of related problems and challenges
Combine them
Restate success and test criteria into milestones and metrics
Reap the Benefits of Stakeholder Management
When you state stakeholder expectations in the form of use cases, you depersonalize their motivations. Exercise caution before sharing the use cases with your stakeholders. There may be stakeholders who don't get along with each other. So instead of sharing the use cases in its raw form i.e. the way you have written them. You want to capture all the problems and challenges and list them as project requirements. Then list all the success criteria separately. Your stakeholders will scan the lists and feel happy when they see that what they want, their expectations, is on the list.
I hope this tip goes a little way in helping you overcome your stakeholder management challenges! Give it a try and let me know the outcome.
I like to find out what project professionals struggle with and give back to the community at the same time. So I would like to offer you a free laser coaching call and I promise not to sell you anything on the call. You can book your call here.