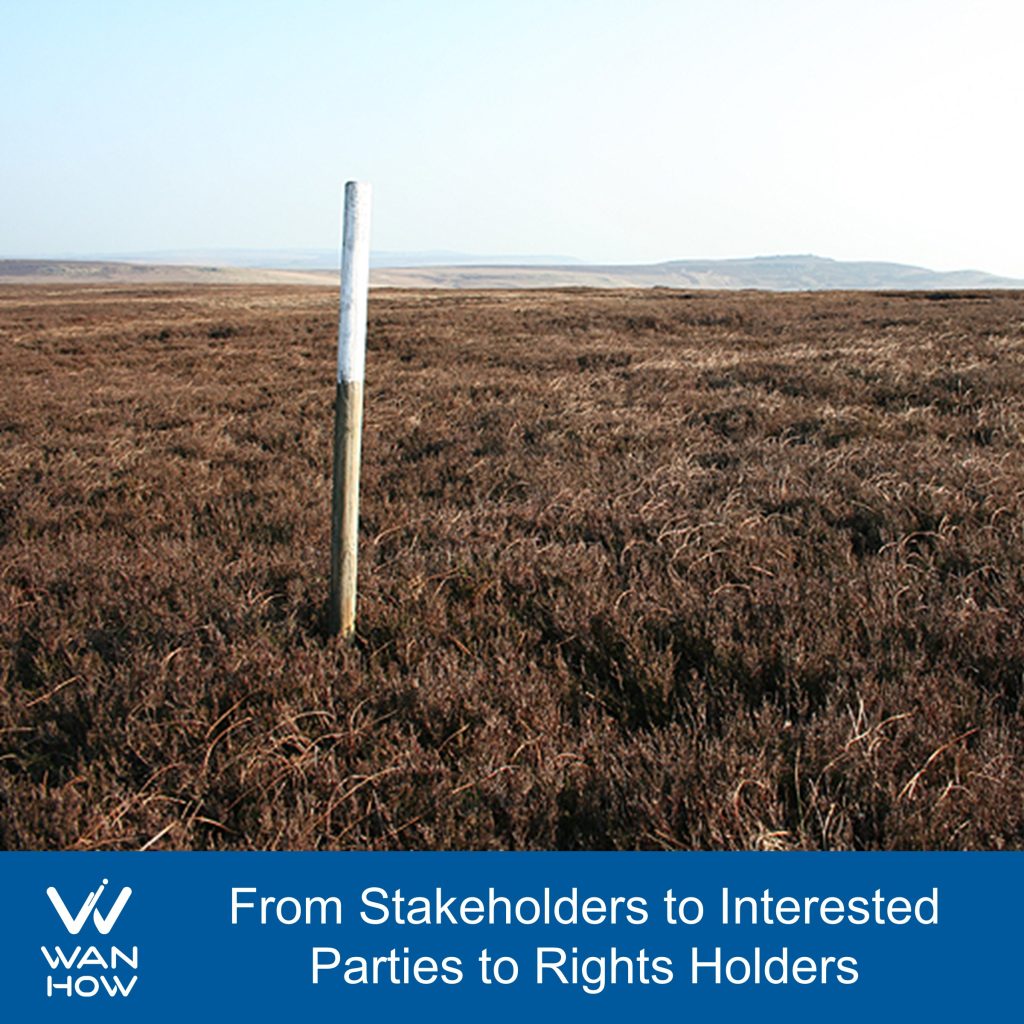 In response to my post on How to Solve Stakeholder Management Problems, a reader responded that the term stakeholder has negative connotations to many Indigenous Peoples. In her comment, Denise Tregear suggested replacing stakeholder with the terms "Interested Parties" or "Partners" instead.
While it's true that words have many meanings and I struggle to write this post without using the word stakeholder simply because we typically use it to mean "engaged individuals and groups of people" in the context of projects. We don't take the word stakeholder to mean settlers who claim land allotments prior to any treaty or land negotiations with Indigenous Peoples.
Words Hurt Your Soul
Nevertheless, words do have historical meanings which are hurtful. Growing up, I watched the A-Team on television. The character "Howling Mad" Murdock was the best chopper pilot, a bit insane, and frequently responded to name calling with the refrain, "sticks and stones may break my bones, but words will never hurt me." Unfortunately, that's simply not true. Words are powerful and in the words of a author and professor Maxine Hancock, "words are like intravenous drugs to your soul."
For a start, if your project includes Indigenous Peoples, replace the term stakeholders with interested parties. But that is only a start. Not only are Indigenous Peoples not stakeholders, they are rights and title holders. Aboriginal title was first recognized by King George III in the Royal Proclamation of 1763. The United Nations declared the rights of indigenous peoples in 2007. (Australia, Canada, New Zealand and the United States initially voted against but years later, reversed their position and now supports the UN Declaration on the Rights of Indigenous Peoples.)
Not Just "Interested Parties"
In 2019, British Columbia implemented the UN Declaration through legislation by passing the Declaration Act into law. On top of that there is an Action Plan with commitments to recognize Indigenous Peoples' inherent rights, interests and legal orders.
This means that the law, in British Columbia, recognizes Indigenous Peoples' as rights holders. They are not just interested parties and definitely not stakeholders.
Learning to use new words takes practice. You may never lead a project involving Indigenous Peoples and so may not need to change from using the term stakeholder. How true is that? If you include end users, clients and customers, in the list of interested parties would some of these users be Indigenous Peoples? For public and large projects, will your project documentation be published or be subject to Freedom of Information requests?
Time for Change?
Rather than use "interested parties" on exception why not use it for all projects? Especially if by stakeholders we mean any individual, group, or organization that stands to be impacted by the outcome of a project?
Perhaps it's time for a change. Could PMI and the PM community start considering alternatives to the standard term "Stakeholder Management"? I concede that Interested Parties Management is a bit of a mouthful. What suggestions do you have?
#notstakeholder
Sources
United Nations Declaration on the Rights of Indigenous Peoples – https://www.un.org/development/desa/indigenouspeoples/declaration-on-the-rights-of-indigenous-peoples.html
BC Declaration Act – https://declaration.gov.bc.ca/
https://news.gov.bc.ca/releases/2022IRR0018-000457
https://www.ictinc.ca/blog/9-terms-to-avoid-in-communications-with-indigenous-peoples
https://www2.gov.bc.ca/gov/content/governments/services-for-government/service-experience-digital-delivery/web-content-development-guides/web-style-guide/writing-guide/writing-guide-for-indigenous-content/terminology